Since 1995, we've built travel guides that promote outdoor destinations in the United States.
It all started in the basement of a local inn in Jackson Hole, Wyoming when the internet had barely made a dent in the local economy of this small mountain town. Our founders had a vision to become one of the first local online resources for travelers looking for a place to stay and things to do in this unique corner of the country. This vision has been at the root of our expansion to many more outdoor oriented destinations.
Today we manage over 40 websites, featuring one of a kind outdoor destinations in primarily the western United States.
Our guides provide useful information helps travelers discover these destinations and plan memorable vacations. We cherish our long lasting relationships with our clients, primarily independent lodging and activity businesses, and we strive to understand their unique business needs and help them grow their businesses.
Travel is an important piece of our culture and we all have explored, if not lived in, many of the destinations we promote. We believe that travel alone creates memorable experiences that lead to personal growth and happiness. We focus on travel to outdoor destinations because we believe that getting outside and enjoying the natural beauty of our country creates a deeper connection to place, inspires an appreciation for what we often take for granted, and pushes one to reconsider their priorities and what creates happiness.
---
Our Culture
Foster a productive and innovative work environment that is flexible and fun. Encourage happy and healthy lifestyles. Inspire outdoor travel and exploration.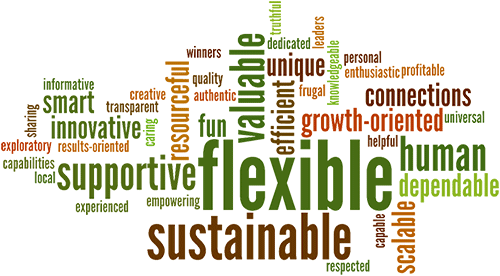 Valuable: We believe that everything we do should create value for someone else.
Fun: We believe that travel is about having fun and that travel-planning can be as fun as the trip itself.
Human/Authentic: We are real people who've been there. We share authentic knowledge. We do our best to understand the traveler's needs, be easy to reach and ready to help.
Flexible: We believe there is more than one right way to do anything. We always see change as opportunity.
Informative: We believe that travel information should be comprehensive, useful and timely.
Dedicated: We believe that everything we do can be improved.
Sustainable: We believe in healthy growth that protects and replenishes ourselves, our communities and the planet.
Empowering: We believe in sharing knowledge that helps people make the right choices for their needs.
Resourceful: We believe we can find a solution to any problem or challenge.